Inland Empire Future Leaders Conference aims to empower LatinX youth
Originally Posted in the Record Gazette on 6/10/2020
https://www.recordgazette.net/news/inland_empire/inland-empire-future-leaders-conference-aims-to-empower-latinx-youth/article_89113556-ab5b-11ea-b369-97fdceadd8ca.html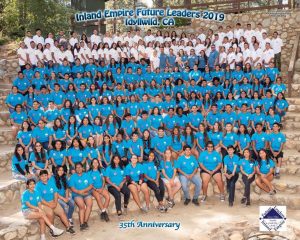 The year 2020 marks the start of a new decade and it signals change. More and more parents of Latinx high school students want their children to succeed and they seek the help of role models in their communities to aid their children to go to college.
The 36th Annual Inland Empire Future Leaders Program (IEFLP) aims to meet that need by offering leadership development, cultural pride, and educational awareness to Latinx eighth- and ninth-grade students from schools representing San Bernardino, Riverside, Orange, and Los Angeles counties.
IEFLP's goals are to motivate Latinx students to graduate from high school, strive for academic excellence, become leaders in school, and in their communities, and eventually, earn a college degree.
In addition, participants will receive leadership training, financial literacy information and will learn communication skills which are emphasized in combination with cultural pride workshops.
115 Latinx eighth- and ninth-grade students are confirmed to participate in the 36th annual IEFLP conference.
Amid the challenges posed by the COVID-19 pandemic and in order to protect the wellness of the students, staff volunteers, and conference presenters IEFLP has deemed best to host the entire summer conference via an online platform.
Students who do not have access to electronic devices and/or reliable internet connection will receive support from IEFLP.
This year's program will be held from June 17 to June 19, 2020.
IEFLP seeks to create a meaningful and enduring virtual connection amongst the delegates (a name used to address the participants of the conference). Dr. R.C. Heredia, an alumnus of Colton High School, University of California Los Angeles, and Pepperdine University and chair of the IEFLP Board of Directors alongside with Vanessa S. Ibarra, Esq., an alumna of California State University, San Bernardino and Loyola Law School and this year's IEFLP Executive Conference Director, acknowledge that "now more than ever, our community will need continuing education, guidance, and uplifting support from one another to persevere during this unprecedented difficult time." According to Vanessa S. Ibarra, Esq., "IEFLP will empower the next generation of future leaders that will shape reforms to uplift our community."
IEFLP will offer a network with IEFLP alum and college students throughout the country, provide exposure to role models, and allow students to connect with high school students throughout Southern California. Role models like the 2019 recipient of the IEFL Art Arzola Scholarship ($1500) Mariah Grajeda, 2019 valedictorian of Middle College High School and current student at UCLA. Grajeda, along with the rest of the 100% volunteer staff, has helped make IEFLP a special experience for all delegates. Rodolfo Monterrosa, Esq., is another conference participant from the 1988 IEFLP, currently a public defender and immigration attorney at Monterrosa Law. "Rudy" is a native of Bloomington where he was the valedictorian of the class of 1991. He graduated from Stanford University and Notre Dame Law School. The delegates will receive mentorship and guidance from successful Latinx individuals like them.
In the past, delegates who benefitted from the experience have expressed their gratitude to IEFLP.
Arturo Rodriguez, 2009 delegate said, "The program encouraged me to follow my dreams and never give up. It sparked my interest in becoming a public servant and serving the Latinx community in any way, shape, or form. This program gave me the necessary tools to become a leader in my community and strive for change."
Additionally, Dr. R.C. Heredia, a 1992 conference delegate, said, "Having experienced this program as a high school student, I learned the leadership tools that have helped me to succeed in high school, at UCLA, in graduate school, and in my career. The confidence in myself and the network that I developed from my experiences with IEFLP was instrumental for me in earning a doctorate degree."
Over 4,400 students have participated in the program, which commenced in 1985.
The program's popularity and effectiveness among students, parents, educators, and community supporters can be shown from yearly surveys since 1990, which indicates that 99 percent of student participants graduate from high school and 90 percent attend college.
For the past thirty-five years, Inland Empire Future Leaders has helped many of its delegates attend and graduate from: Harvard, Notre Dame, Pepperdine, Stanford, UCLA, USC, UCR, UCSB, UCSD, CSUSB and the list goes on and on.
Many of the conference's delegates have gone on to become: lawyers, teachers, doctors, professors, filmmakers, journalists, and even congressmen (U.S. Members of Congress Pete Aguilar and Dr. Raul Ruiz)!
This year's conference will be dedicated to Judith Segura-Mora, an alumna from the original IEFL conference in 1985.
Judith has volunteered her time and energy for the program since the 1980s and currently serves on the Board of Directors.
Funding for the program is provided through individuals, community groups, businesses, foundations, school districts, and government agencies.
IEFLP encourages you to visit our website at www.iefl.org, add us on Facebook at Inland Empire Future Leaders Program, and/or follow us on Instagram at ieflp.